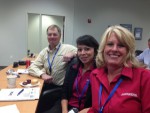 Ametherm was thrilled to receive an  invitation from Lenze Americas to attend the first Lenze Supplier Day. The event was held at Lenze's North American Headquarters in Uxbridge, Massachusetts on September 24, 2015 and featured attendees from their 20 top suppliers.
The agenda included several presentations with key-information on lean manufacturing, quality expectation and global commodities strategies. Between sessions the group took a tour of the manufacturing facilities and participated in a meet-and-greet with the engineering team. We heard from our employees that the food wasn't bad either!
History Lesson: Our affiliation with Lenze dates back to 1996, shortly after Ametherm was founded. Lenze was one of our first customers and we're proud to say that we still have a strong relationship today.
Lenze is a global leader that specializes in Motion Centric Automation. They are headquartered in Hamelin, Germany with 3500 employees in 60+ countries. Our thermistors are used in their motor drives for temperature sensing and limiting inrush current.  Motor drives are a widely used mechanical system that create motion to drive a machine.
The most informative part of the trip for Lori Morton, Production Manager was seeing how our thermistors are placed in the motor drives during the manufacturing process.
Fun Fact: The next time you are in a car wash pay attention to how your car moves along the track. This is done with the help of a motor drive. Treadmills also utilize this technology as well.
This trip was not only a great way to meet new faces, but also to connect with familiar ones too! As an extra bonus we got to see our good friends at PowerComp.  They do a fantastic job covering our sales territory in the northeast. Each year they visit us in Nevada, but this was the first time this particular team had a chance to meet up with them in their city.  From picking us up from the airport to taking us out to dinner, they were extraordinary hosts.
Beyond the excitement of the travel and meeting new faces, our team had some important takeaways from the event as well.
For Patricia Roman, Production Floor Supervisor, this was her first time traveling with the company. "I loved the trip" she said, stating that it helped to broaden her perspective and experience the powerful impact our products have outside of our facility. She returned back to the production floor with valuable information about lean manufacturing that will help her excel in her current role with Ametherm.
Chad Terry, Quality Manager really enjoyed how personalized the visit felt:
"They really took the time to give us tours and made us feel welcomed. Dale Seidlitz in particular was a great host to me and very knowledgeable about quality management."
Chad left the event feeling inspired and thankful for the opportunity to learn and grow in his position.
While the trip was brief with an information-packed agenda, the group did get to catch a glimpse of downtown in the evening. With its tall buildings and bustling people, it was a fresh change of scenery compared to the rural Carson Valley surrounded by mountains.
Thank you to Lenze for inviting Ametherm to attend your Supplier Day. We look forward to attending again in the future!
Follow Us