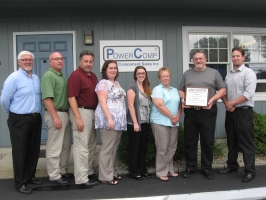 CARSON CITY,-Nev.Sept. 26, 2013- Ametherm today announced that it has recognized Power Component Sales, Inc. (PowerComp) with an award acknowledging the rep's significant contributions to the company's success in the New England market. Since 1995, PowerComp has been the exclusive manufacturer's representative for Ametherm's full line of inrush current limiting power thermistors in the region.
PowerComp was formed in 1990 by Alan and Kathy Armstrong with the goal of servicing the power marketplace at the component level. Focusing on custom and specialty solutions, the rep's customer base includes companies in the computer, industrial, medical, military, telecom, alternative energy, and contract manufacturing industries.
In order to maximize share among its principles, PowerComp limits the number of manufacturers it represents to ten or less. This, combined with the company's dedication to its employees and drive to keep its customer base informed of the latest technology, has established PowerComp as the go-to firm for sales of power components in New England.
"We've worked closely with the PowerComp team for almost 20 years, and in that time they've been nothing short of phenomenal in selling and supporting our full line of thermistors," said Mehdi Samii, vice president of engineering at Ametherm. "While most reps will carry up to 20 product lines, PowerComp's more selective offering allows them to provide better and more focused customer service. In addition, the company is led by true professionals who take pride in what they do and have extensive knowledge of multiple industries. We are proud to present them with this award and look forward to continuing our relationship with the company long into the future."
"We are truly honored to receive this recognition from Ametherm," said Alan Armstrong. "Since we represent a limited number of product lines, we only work with manufacturers that offer solutions of the highest quality and provide the most value to our customers. Ametherm certainly meets that criteria and has consistently been a stand-out in our line-up, providing circuit protection in a wide range of applications while lowering costs and simplifying designs. We couldn't be more proud to be part of the Ametherm experience and what it brings to our customers."
More information on PowerComp can be found at www.powercompsales.com.
About Ametherm
Ametherm, headquartered in Carson City, Nev., was founded in 1994 and specializes in inrush current limiting power thermistors for circuit protection in the power market industry. Ametherm's devices are some of the highest rated in the industry and provide the widest range of output protection available. For more information, visit www.ametherm.com or call 800-808-2434.