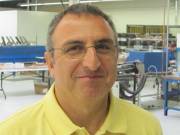 CARSON CITY, Nev. — July 31, 2013 — Ametherm today announced a global distribution partnership with Mouser Electronics, Inc., a leading catalog and online semiconductor and electronic component distributor. Under the terms of the agreement, Mouser will carry and provide technical support for Ametherm's complete line-up of reliable inrush current limiting solutions.
Made in the U.S.A., Ametherm's RoHS-compliant inrrush current limiting power thermistors are recognized by Underwriters Laboratories (UL) and the Canadian Standards Association (CSA International) for ensured safety. The company's offering ranges from the space-saving 3 mm by 3 mm miniAMP series – designed to handle 1 A of steady-state current and a maximum 2 J of input energy – to the MegSurge series, which withstands 50 A of steady-state current and a maximum 900 J of input energy.
Ametherm thermistors are optimized for a wide variety of applications, including AC motors, power supplies, motor drives, audio amplifiers, and battery chargers. Mouser will distribute these products worldwide via its award-winning Mouser website, www.mouser.com, and its comprehensive resource catalogs.
"Partnering with Mouser is a key move as we continue to increase worldwide market exposure and sales for our power thermistors," said Mehdi Samii, vice president of engineering at Ametherm. "The company is well known for carrying leading-edge technologies, and its knowledgeable staff offers our customers unmatched technical support with 19 locations across the globe."
"We're excited to add Ametherm's full line of inrush current limiters to Mouser's circuit protection offering," says Andy Kerr, Mouser Vice President of Passives. "Ametherm has a reputation in the industry for having the widest range of output protection available, and we look forward to a healthy partnership with the company."
About Mouser
Mouser Electronics, a subsidiary of TTI, Inc., is part of Warren Buffett's Berkshire Hathaway family of companies. Mouser is an award-winning authorized semiconductor and electronic component distributor, focused on the rapid introduction of new products and technologies to electronic design engineers and buyers. Mouser.com features more than 4 million products online from more than 500 manufacturers. Mouser publishes multiple catalogs per year providing designers with up-to-date data on the components now available for the next generation of electronic devices. Mouser ships globally to over 400,000 customers in 170 countries from its 492,000 sq. ft. state-of-the-art facility south of Dallas, Texas. For more information, visit www.mouser.com
About Ametherm
Ametherm, headquartered in Carson City, Nev., was founded in 1994 and specializes in inrush current limiting power thermistors for circuit protection in the power market industry. Ametherm's devices are some of the highest rated in the industry and provide the widest range of output protection available. For more information, visit www.ametherm.com or call 800-808-2434.