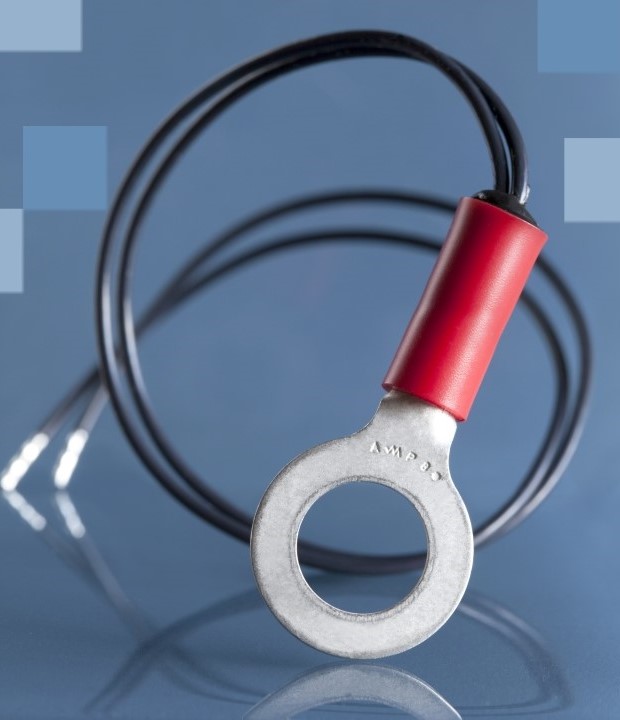 This NTC thermistor temperature sensor is designed with alternative energy in mind.
Featuring a specially designed ring lug for easy and secure mounting to battery terminals, this probe is ideal for electric vehicle batteries or any Lithium Ion battery uses, providing safety through temperature sensing.
Being extremely accurate, the NTC probe assembly experiences minimal drift from its initial electrical values, and a high-stability alternative for RTDs and thermocouples.
The thermistor temperature sensor features a high-dielectric withstand voltage, resistance at 25 ºC of 10kΩ, beta of 3950° K°, and dissipation constant of 8 mW/ºC.
---
Mechanical Specifications
| Designation | Dimension (mm) |
| --- | --- |
| A | 22.2 |
| B | 13.08 ± 0.13 |
| C | 19.4 |
| D | 255.0 ± 10.0 |
| E | 6.0 |
| F | 9.0 |
| G | 1.0 |
| H | 46.0 |
Key Specifications:
Resistance at 25 ºC 10 kΩ ± 2%
Temperature Coefficient of Resistance -4.40% / ºC
Operating Temperature Range -50 ºC to 180 ºC
Dielectric Voltage Rating (VAC) 4000
Dissipation Constant 8 mW /ºC
Thermal Time Constant 10 seconds
Material Constant (Beta) 3950 ºK ±1%
ROHS Compliant
Lead Wire Gauge – 18 AWG stranded Teflon Insulated
Ring Lug – ½" Stud Insulated