Since 1994, Ametherm has provided the most reliable and effective inrush current limiting solutions available. We deliver on that promise through innovative design, quality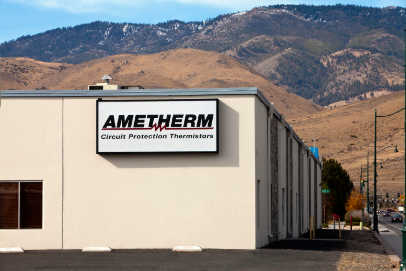 manufacturing, and exceptional customer support.
For Engineers Who Need the Most Effective Inrush Current Limiting Solutions
Our engineering team will work closely with you to find the best solution for your inrush current limiting applications. We are ISO:9001:2015 certified, and our broad range of power thermistors are UL and CSA approved, providing the most reliable yet cost-effective inrush current limiting solutions available. Our samples are always free, and products are shipped quickly from our plant and worldwide distribution network to meet your testing and production demands. Contact an Ametherm engineer.
For Buyers Who Need Great Products, Great Values, and Great Service
At Ametherm, we make your job easy by understanding your specific needs and consistently shipping high-quality, competitively-priced power thermistors every time. Our streamlined manufacturing and international distribution network provides you with short lead times, and we follow through every step of the way to make sure you get exactly what you ordered on time. Contact an Ametherm sales representative.
For Distributors Who Want A Dependable Partner For Power Thermistors
As an Ametherm distributor, you can add the broadest range of agency-approved power thermistors available to your product offerings. Our flexibility and commitment to service ensure you get exactly what you need, from comprehensive product information, to custom packaging, to preferred shipping. And we proudly promote our worldwide distribution partners through our ongoing marketing, sales, and service initiatives.
Ask Us a Question