Thermistors for Temperature Measurement, Compensation, and Control
Negative Temperature Coefficient NTC Thermistors are semi-conductor non-linear resistors, which alter their resistance characteristics with temperature and the resistance of the NTC thermistor will decrease as the temperature increases.
Ametherm's NTC thermistors are manufactured from a specially-formulated high quality metal oxide ceramic material which is extremely accurate in sensing temperature used in Temperature Measurement, Compensation, and Control applications.
Click the product image for all details and specs
[su_panel border="0px solid #3c77b1″ radius="3″ text_align="left"]

NTC Thermistor Probe in Ring Lug. Available in a variety of housings with custom design capabilities. Easy and secure surface mounting and fast response time.

NTC Thermistor Probe in a Threaded Hex Nut. These thermistors are potted inside an aluminum hex screw with straight threads. Rugged and cost effective.

NTC Thermistor Probe in Stainless Steel housing with a Threaded Long Tip. They are potted at the tip of a durable stainless steel alloy tube with a tapered thread hex screw.

NTC Thermistor in epoxy encapsulation. Epoxy dip coated and soldered between jacketed Teflon/PVC wires. Small dimensions allow easy installation. Point or curve matched. Customizable and cost effective.

NTC Thermistor Probe in a Stainless Steel Housing. Potted inside durable stainless steel alloy tube and epoxy filled. Humidity resistant, fast response, rugged construction and cost effective.

Nickel Barrier End Band Surface Mount Thermistors. These thermistors provide an alternative to thermocouples in precision circuits. Configuration options include Bulk, Tape & Reel, Two-Sided and Wrap Around Terminations.

Accu-Curve Precision Interchangeble Thermistors offer interchangeability over a broad temperature range and eliminate the need to individually calibrate or provide circuit compensation for part variability.

Disc and Chip Thermistors are manufactured with or without coating with tinned copper leads. Wide resistance selection. Cost effective with fast response times to (±1%).
Radial Leaded Glass Encapsulated NTC Thermistors

These thermistors are for higher temperature applications. Hermetically sealed, these thermistors eliminate error in resistance readings due to moisture penetration.
[/su_panel]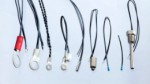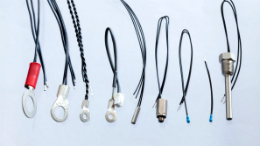 Thermistors vs. Thermocouples Temperature sensors are important for everyday life, from working in industrial plants to preventing fires. Thermistors and thermocouples are two such temperature sensors. A thermistor is a thermally sensitive resistor that exhibits a continuous, small, incremental change in resistance correlated to temperature variations. Thermocouples reflect proportional changes in temperature through the varying voltage created between two dissimilar metals electrically bonded together. Both are good options for temperature … Continue Reading
Thermistor temperature sensors have broad applicability            NTC Thermistors are non-linear resistors that alter their resistance with temperature. Resistance on an NTC probe will decrease predictably as the temperature increases allowing for extremely accurate temperature measurements. These temperature sensors have applications within environmental science, prevention, medical, building automation, aerospace, automotive, life safety, and others. One industry not immediately thought of for thermistor temperature sensors is the bowling industry. A … Continue Reading
NTC Thermistor Probes Have Endless Applications NTC thermistor probes measure liquid levels and temperature in industries that extend from automotive electronics to medical technology to green energy. Their applications are endless, and their purpose ensures the operability of the applications they serve. A thermistor probe, can also be as simple as an NTC thermistor chip, encapsulated with epoxy or glass. Or, it can be potted in a metal or plastic housing … Continue Reading

NTC Thermistors
The information you need is just a click away!
NTC Thermistor APP Notes
[su_panel border="1px solid #3c77b1″ radius="3″ text_align="left"]Our products are available for immediate delivery through our network of distributor partners.

[/su_panel]
Learn More About NTC Thermistors