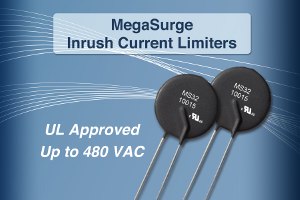 Provides a simple one-component alternative to using wirewound resistors with timers and relays, MegaSurge series inrush current limiting NTC thermistors reduce costs and greatly simplify designs.
In addition, they increase safety by eliminating the fire hazard associated with failed relays.
While traditional thermistors are only certified for input voltages from 85 VAC to 265 VAC, UL-recognized MegaSurge devices are certified for single- and three-phase input voltages up to 480 VAC.
In addition, they have the ability to withstand high steady-state currents to 36 A and up to 300 J of input energy.
These specifications are the highest of any single-solution inrush current limiting device on the market.
Target Applications: Inrush Current Protection of Power Supplies, Motor Controllers, Audio Amplifiers, Battery Chargers, Frequency Generators, Plasma Cutting Tools, MRI Machines and, Toroidal Transformers.
***Find specific information for all of our MEGASURGE™ Inrush Current Limiters Below***
---
Part
Number
Res
@ 25°C
SSI
Joules
Max Cap
120 VAC (µF)
Max Cap
440 VAC (µF)
Max Cap
680 VAC (µF)
D
(mm)
T
(mm)
Digi-Key
Mouser
MS32 2R025
2.0
25.0
300
20,700
1,204
600
31
10
570-1019-ND
995-MS32-2R025
MS32 5R020
5.0
20.0
300
20,700
1,204
600
31
7
570-1021-ND
995-MS32-5R020
MS32 7R015
7.0
15.0
250
17,000
1,003
500
31
10
570-1022-ND
995-MS32-7R015
MS22 10008
10.0
8.0
200
13,850
802
400
23
10
570-1003-ND
995-MS22-10008
MS32 10015
10.0
15.0
250
19,250
1,003
500
31
9
570-1014-ND
995-MS32-10015
MS32 15012
15.0
12.0
250
17,300
1,003
500
31
10
570-1015-ND
995-MS32-15012
MS22 20005
20.0
5.0
180
12,000
722
360
23
8
570-1007-ND
995-MS22-20005
MS32 20008
20.0
8.0
250
17,300
1,003
500
31
10
570-1017-ND
995-MS32-20008
MS32 20010
20.0
10.0
250
17,000
1,003
500
31
10
570-1018-ND
995-MS32-20010
MS15 30004
30.0
4.0
135
9,300
541
270
17
8
570-1001-ND
995-MS15-30004
MS22 30005
30.0
5.0
150
10,300
602
300
23
9
570-1009-ND
995-MS22-30005
MS15 40004
40.0
4.0
135
9,300
541
270
17
8
570-1002-ND
995-MS15-40004
MS22 50004
50.0
4.0
240
16,400
963
480
23
10
570-1010-ND
995-MS22-50004
MS32 50006-L
50.0
6.0
250
19,250
1,003
500
31
7
570-1411-ND
995-MS32-50006-L
MS22 75004
75.0
4.0
240
16,400
963
480
23
9
570-1011-ND
995-MS22-75004
MS22 12102
120.0
2.0
220
15,000
883
440
23
10
570-1004-ND
995-MS22-12102
MS22 12103
120.0
3.0
220
15,000
883
440
23
10
570-1005-ND
995-MS22-12103
MS22 12104
120.0
4.0
220
15,220
883
440
23
10
570-1006-ND
995-MS22-12104
MS12 15102
150.0
2.0
110
7,500
441
220
14
9
570-1000-ND
995-MS12-15102
MS22 22103
220.0
4.0
75
5,100
301
150
23
10
570-1008-ND
995-MS22-22103
MS35 0R550
0.50
50.0
500
62,000
3,612
1,800
37
9
570-1023-ND
995-MS35-0R550
MS35 1R040
1.0
40.0
800
55,000
3,211
1,600
37
11
570-1025-ND
995-MS35-1R040
MS35 2R035
2.0
35.0
750
51,900
3,010
1,500
37
7
570-1027-ND
995-MS35-2R035
MS35 3R030
3.0
30.0
750
51,600
3,010
1,500
37
10
570-1028-ND
995-MS35-3R030
MS35 5R025
5.0
25.0
600
41,250
2,408
1,200
38
10
570-1029-ND
995-MS35-5R025
MS35 10018
10.0
18.0
500
34,000
2,007
1,000
37
11
570-1024-ND
995-MS35-10018
MS35 20010
20.0
10.0
500
34,000
2,007
1,000
37
11
570-1026-ND
995-MS35-20010