The News:
Ametherm introduces new inrush current limiting NTC thermistors designed to withstand high currents from 6 A to 50 A and 250 J to 800 J of input energy
Key Benefits:
Recognized by Underwriters Laboratories (UL) for ensured safety
Enhanced performance over traditional inrush current limiters:
Lower current density
Faster reset times
Wider temperature range without derating
One-component solution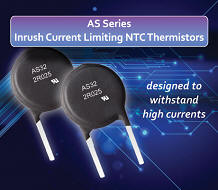 Key Specifications:
Withstand high currents from 6 A to 50 A and 250 J to 800 J of input energy
Hot R from 0.0074 Ω to 0.380 Ω · Resistance at 25 ºC from .50 Ω to 50 Ω
Maximum capacitance at 680 VAC from 500 µF to 1730 µF
Available with diameters of 30 mm and 36 mm
Target Applications:
Protection of pre-charge circuits in lithium ion batteries; variable-frequency drives in sports equipment like treadmills, high-speed computers, and processors; switch mode power supplies for plasma cutters and welders; and audio amplifiers, MRIs, and x-ray machines
Key Specifications:

The Context: Designed to withstand high steady-state currents and input energy, AS Series inrush current limiting NTC thermistors reduce costs and greatly simplifying designs by providing simple one-component alternatives to using power resistors with timers and relays. Compared to traditional inrush current limiters, the devices offer lower current density, faster reset times, and a wider temperature range without derating. While traditional inrush current limiters handle approximately 167 A per square inch for the duration of the inrush current, AS Series devices are designed to withstand 400 A per square inch. This lower current density, in combination with a uniform temperature gradient throughout the disc, increases reliability by eliminating hot spots from fatigue.
Availability: Samples of the AS Series are available in three to five days. Production quantities are available with lead times of four weeks.
Datasheets: https://www.ametherm.com/inrush-current/as-series-inrush-current-limiters
Download this New Product Announcement as a PDF: AS Series New Product Announcement – July 2013
Request a Sample: Call 800-808-2434 (toll free in the United States) or 775-884-2434 from outside the US and Canada.