January 31, 2010

For Immediate Release:
Ametherm Announces New Partnership With Rhopoint Components
UK based distributor to offer complete line of Ametherm's Inrush Current Limiting Power Thermistors.
(Carson City, Nev., February 3, 2010) – Ametherm, a U.S. based manufacturer of inrush current limiting power thermistors, has added Rhopoint Components to its list of authorized distributors. Rhopoint will offer Ametherm's complete line of circuit protection devices, supporting outputs from 50 to 7,500 watts and continuous currents from .25 to 50 amps.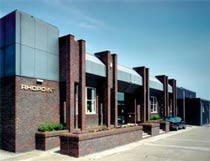 "The demand for high power circuit protection is increasing, especially in the 800 watts and above range," said Eric Rauch, Ametherm's president. "Applications include motor drives, soft start circuits, HVAC, switch mode power supplies, audio amplifiers, and medical X-ray equipment. Our focus on high quality and durability will enable Rhopoint to quickly meet those needs in their market."
Rauch says the Ametherm line will also help Rhopoint, previously an exclusive distributor of RTI Electronics inrush current limiters and sold as Surge-Gard, provide a seamless transition for customers as RTI is divested by its parent company, Intricon.
"Rhopoint is excited to be the sole distributor of Ametherm in the UK," said Ian Moore, Rhopoint Sales Director. "Ametherm's inrush current limiting power thermistors are UL-CSA approved, expand the range of inrush current limiters formerly offered by RTI, and extend the range of available applications for our customers."
Ametherm was founded in 1994 and is ISO9000:2001 certified. The company's devices are the highest rated product of this type in the industry and are distributed worldwide. For more information or to request a sample, visit www.ametherm.com or call 800-808-2434 (toll free in the United States) or 775-884-2434 from outside the US and Canada.
Rhopoint Components' new address is: Unit B, Rhopoint House, Imberhorne Lane, East Grinstead, RH19 1QZ UK.
For more information , visit www.rhopointcomponents.com or call 44 (0) 845 270 2780 or +44 (0)1883 717988.
###
About Ametherm
Ametherm, headquartered in Carson City, Nevada, was founded in 1994 and specializes in inrush current limiting power thermistors for circuit protection in the power market industry. Ametherm's devices are some of the highest rated in the industry and provide the widest range of output protection available.
For more information,
visit www.ametherm.com or
call 800-808-2434.
Contact: Mehdi Samii, VP of Engineering and Sales
Ametherm T: 800.808.2434
E: mehdi@ametherm.com