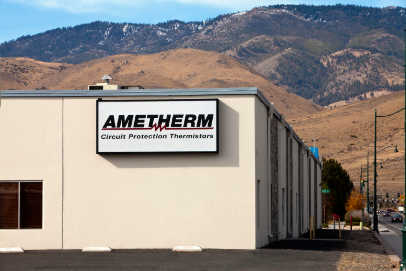 CARSON CITY,-Nev.Dec. 5, 2013-Ametherm, a manufacturer of thermistors and other electronic components for circuit protection, today announced that it has doubled the size of its manufacturing plant with a newly purchased 36,000-square-foot facility on Carson City's east side.
In an industry where Asia-sourced components dominate, Ametherm manufactures all its products in the U.S.A., at its new facility and at a smaller Carson City plant that was its headquarters from 1994 until recently.
"Our new plant on U.S. 395 represents an investment in Ametherm's future and a fulfillment of our immediate requirements for additional space following on our acquisition last month of the SURGE-GARD™ inrush current limiter product line from Measurement Specialties Inc.," said Eric Rauch, president and CEO of Ametherm. "It also stands as a statement of our faith and success in manufacturing in the U.S.A., which we have done successfully for nearly 20 years and began doing at a time when many in this industry were offshoring their operations."
Ametherm's products include inrush current limiters and sensing thermistors used in a very wide range of applications. In business since 1994, the company's devices are among some of the highest rated in the industry and provide the widest range of inrush current protection available.
For more information or to request a sample, visit www.ametherm.com. Or call 800-808-2434 (toll free in the United States) or 775-884-2434 from outside the US and Canada.
Press Release: New Facility Announcement
About Ametherm
Ametherm, headquartered in Carson City, Nev., was founded in 1994 and specializes in inrush current limiting power thermistors for circuit protection in the power market industry. Ametherm's devices are some of the highest rated in the industry and provide the widest range of output protection available. For more information, visit www.ametherm.com or call 800-808-2434.