SL22 line provides rare combination of meeting both CSA and UL standards, while providing inrush current protection for 65 to 100 joules of energy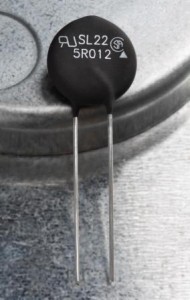 (Carson City, Nev., March 30, 2010) – Engineers needing CSA and UL approved power thermistors that allow between 800 and 1500 watts in the 2 to 20 amp range can find them at Ametherm, a U.S. based manufacturer of inrush current limiters. The dual agency approval makes Ametherm one of few manufacturers of these types of products. "Globally, regulators look for Underwriters Laboratories (UL) certification to ensure product safety," said Mehdi Samii, Ametherm's Vice President of Engineering and Sales. "To sell an electrical device or component in Canada, it must be certified by the Canadian Standards Association (CSA) or a recognized equivalent. Having both agency approvals gives engineers and manufactures greater confidence in a product's ability to quickly and consistently meet their design and development standards."
Samii says Ametherm has seen a significant increase in its SL22 demand, including from overseas. Since agency approvals involve extensive testing and processing, there are only a few inrush current limiting thermistor manufacturers that offer them. At the same time, safety standards are becoming more universal, making agency recognition more important when manufacturing electronic components and devices.
Ametherm was founded in 1994 and is ISO 9000:2008 certified. The company's devices are the highest rated product of this type in the industry and are distributed worldwide. For more information or to request a sample, visit www.ametherm.com or call 800-808-2434 (toll free in the United States) or 775-884-2434 from outside the US and Canada.
About Ametherm
Ametherm, headquartered in Carson City, Nevada, was founded in 1994 and specializes in inrush current limiting power thermistors for circuit protection in the power market industry. Ametherm's devices are some of the highest rated in the industry and provide the widest range of output protection available. For more information, visit www.ametherm.com or call 800-808-2434.
Media Contact:
Kerstin Plemel
kerstin@ametherm.com This e-mail address is being protected from spambots. You need JavaScript enabled to view it
800.808.2434