NTC THERMISTORS – GLASS ENCAPSULATED DG SERIES
Ametherm's DG series of Glass Encapsulated thermistors are a special breed of NTC thermistors. Hermetically sealed, these small thermistors eliminate resistance reading errors caused by moisture penetration and they function efficiently in extreme temperatures as well as under severe environmental conditions.
This class of thermistor is free from limitations due to solder temperature, which enables them to offer users a wide operating temperature range of "-55 °C to +200 °C". With diameters of only 1.5 mm, the devices' small size allows for encapsulation in a variety of housings, such as ring lugs and hex nuts.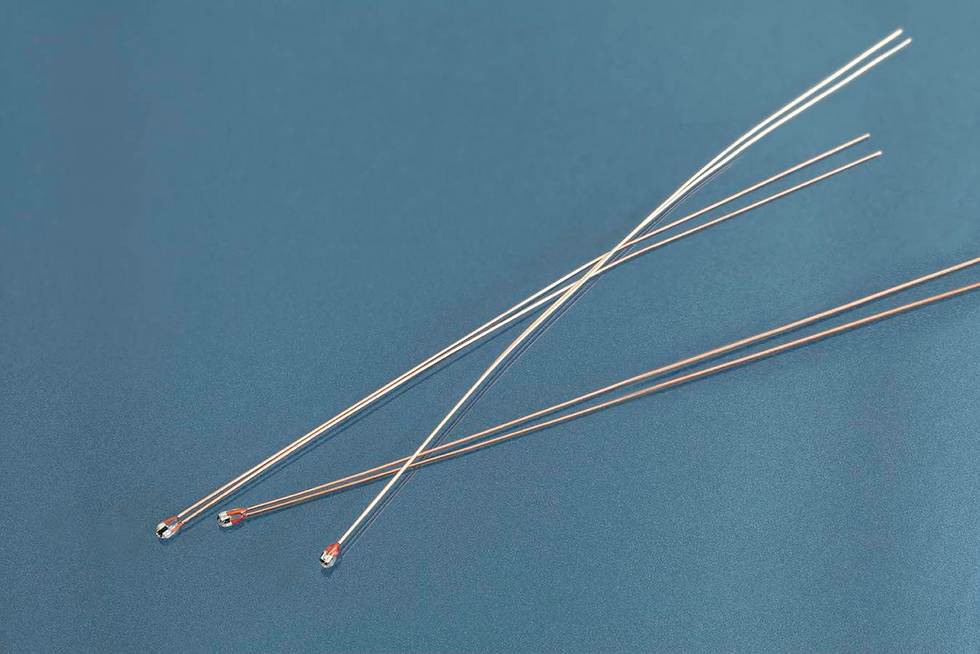 Glass Encapsulated DG Series of NTC Thermistors
Industrial Applications
The DG series is equipped with Negative Temperature Coefficient characteristics, which enable them to provide long-term stability and reliability.
Do you have an application you need help with? Connect with one of our engineers. They are happy to assist you.
Ametherm's DG glass-encapsulated thermistors provide long-term stability and reliability for high accuracy temperature sensing applications. They are commonly associated with industries such as:
FEATURES
High precision resistance and β value with an operating temperature range of -40~ +250 °C.
Greater accuracy and a faster response makes them an efficient and cost effective alternative to RTD probes and thermocouples.
Their compact size allows for encapsulation in a variety of custom housings such as ring lug and hex nuts.
APPLICATIONS
Temperature measurement and control commonly used in HVAC applications.
Temperature control in common household appliances such as coffee makers, ovens, and refrigerator's.
Industrial applications may include monitoring battery pack terminal temperature while in a charge state.
Medical applications that rely on airflow such as respirators.
Outdoor applications such as infrared lighting systems.
TECHNICAL SPECIFICATIONS
Available in 4 resistance values at 25°C; 10 kΩ, 40 kΩ, 50 kΩ, 100 kΩ. Tolerance down to ±2%.
Dissipation Constant of 3.0 m W/°C.
Thermal Time Constant of 6s.
TCRs if – 3.9% /°C -4.4%/°C and -4.75 %/° C.
Beta values of 3435 °k, 3950 °k, 4036 °k, 4200 °k.
32 AWG dumet wire leads.
DG Datasheet
Ametherm's products are also available for immediate delivery through our network of distributors. Click to visit a distributor.