Devices Offer Power Ratings of 125 mW, 200 mW, and 250 mW for LCD Controls, Relay Coils, Oscillators, and Hybrid Circuits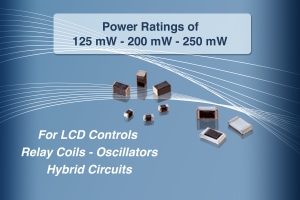 CARSON CITY,-Nev.Oct.3, 2013- Ametherm today introduced three new series of surface-mount thermistors for high-accuracy temperature compensation and measurement. To meet the specific requirements of any application, SM04, SM06, and SM08 series devices offer designers a choice of 125 mW, 200 mW, and 250 mW maximum power ratings, respectively, and dissipation constants of 1.10 mW/°C, 1.50 mW/°C, and 2.00 mW/°C.
With thermal time constants down to 1.5 seconds and low profiles to 0.35 mm, the thermistors introduced today offer very fast response times while saving space in LCD controls, relay coils, crystal oscillators, and hybrid circuits. Providing a cost-effective alternative to radially leaded NTC and through-hole thermistors, SM04, SM06, and SM08 devices lower costs by supporting auto insertion during manufacturing.
The thermistors offer a wide range of resistance values from 200 Ω to 470 kΩ with tolerances down to 1 %, beta from 2500 °K to 4500 °K, and an operating temperature range of -40 °C to +125 °C. Featuring nickel barrier terminations, the SM04, SM06, and SM08 series are suitable for wave and reflow soldering and offer a Moisture Sensitivity Level of 2 for high reliability. The devices are available in standard tape-and-reel packaging in quantities from 100 to 5,000 pieces.
Device Specification Table:
| | | | |
| --- | --- | --- | --- |
| Type | SM04 | SM06 | SM08 |
| Resistance Range (Ω) | 300 to 470K | 250 to 470K | 200 to 250K |
| Dissipation Constant (mW/ºC) | 1.10 | 1.50 | 2.00 |
| Thermal time constant (sec) | 1.50 | 2.00 | 2.50 |
| Maximum Power (mW) | 125 | 200 | 250 |
Offered through Mouser, samples of the SM04, SM06, and SM08 series are available in three to five days. Production quantities are available with lead times of six weeks. Pricing for U.S. delivery starts at $0.22 per piece in 5,000-piece quantities.
About Ametherm
Ametherm, headquartered in Carson City, Nev., was founded in 1994 and specializes in inrush current limiting power thermistors for circuit protection in the power market industry. Ametherm's devices are some of the highest rated in the industry and provide the widest range of output protection available. For more information, visit www.ametherm.com or call 800-808-2434.