Thermistors for Temperature Measurement, Compensation, and Control
Negative Temperature Coefficient NTC Thermistors are semi-conductor non-linear resistors, which alter their resistance characteristics with temperature and the resistance of the NTC thermistor will decrease as the temperature increases.
Ametherm's NTC thermistors are manufactured from a specially-formulated high quality metal oxide ceramic material which is extremely accurate in sensing temperature used in Temperature Measurement, Compensation, and Control applications.
Click the product image for all details and specs

NTC Thermistor Probe in Ring Lug. Available in a variety of housings with custom design capabilities. Easy and secure surface mounting and fast response time.

NTC Thermistor Probe in a Threaded Hex Nut. These thermistors are potted inside an aluminum hex screw with straight threads. Rugged and cost effective.
NTC Thermistor Probe in Stainless Steel housing with a Threaded Long Tip. They are potted at the tip of a durable stainless steel alloy tube with a tapered thread hex screw.

NTC Thermistor in epoxy encapsulation. Epoxy dip coated and soldered between jacketed Teflon/PVC wires. Small dimensions allow easy installation. Point or curve matched. Customizable and cost effective.

NTC Thermistor Probe in a Stainless Steel Housing. Potted inside durable stainless steel alloy tube and epoxy filled. Humidity resistant, fast response, rugged construction and cost effective.
Nickel Barrier End Band Surface Mount Thermistors. These thermistors provide an alternative to thermocouples in precision circuits. Configuration options include Bulk, Tape & Reel, Two-Sided and Wrap Around Terminations.

Accu-Curve Precision Interchangeble Thermistors offer interchangeability over a broad temperature range and eliminate the need to individually calibrate or provide circuit compensation for part variability.
Disc and Chip Thermistors are manufactured with or without coating with tinned copper leads. Wide resistance selection. Cost effective with fast response times to (±1%).
Radial Leaded Glass Encapsulated NTC Thermistors

These thermistors are for higher temperature applications. Hermetically sealed, these thermistors eliminate error in resistance readings due to moisture penetration.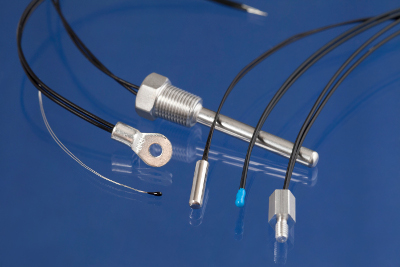 Thermistors serve a crucial role in temperature detection. For example, thermistor temperature detection can be used in fire alarms to detect fires based on a sudden change in temperature. Unlike photoelectric detectors or ionization alarms, thermistors only require heat to activate. Thermistors are temperature-sensing elements made of semiconductor material that displays large changes in resistance in proportion to small changes in temperature. Photoelectric and Ionization Fire Alarms The photoelectric detector requires heavy smoke … Continue Reading
0 comments

What Do Rt1, Rt2, t1, and t2 Have In Common? They are the main components of Thermistor Beta Calculations as it relates to temperature measurement, compensation, and control. And if you are an engineer in an industry such as automotive or HVAC where things like coolant and air intake temperatures are crucial to the safety and performance of a vehicle or unit, chances are you will deal with beta calculations … Continue Reading
0 comments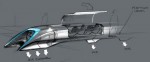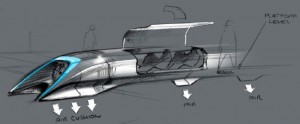 Award-Winning Hyperloop Pod Uses NTC Thermistors A team of engineers use NTC thermistors in their design for a high-speed transportation pod.  The thermistors accurately sense temperatures and create a map of the application's heat. Teslarati recently conducted an interview with members of the Badgerloop team, 3rd-place winners of SpaceX's Hyperloop Pod design competition in January.  The Hyperloop is Tesla CEO Elon Musk's "fifth mode" of transportation where passengers in a … Continue Reading
0 comments
    The information you need is just a click away!
NTC Thermistors
NTC Thermistor APP Notes
Learn More About NTC Thermistors