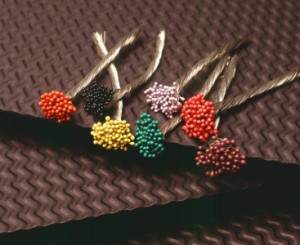 We are excited to announce that we are now offering ACCU-CURVE™ series thermistors. These are a new series of interchangeable thermistors used for temperature sensing, control, and compensation. They are best suited for applications that require a high degree of measurement accuracy over a wide temperature range. Common applications include medical, industrial, and automotive. Read the full press release here.

Why choose the ACCU-CURVE™ series?
The ACCU-CURVE™ series offers faster and less expensive alternatives to RTD probes and thermocouples. Best of all, designers can use our devices without compromising on accuracy. They can be built in a variety of housings for temperature compensation and deliver tight tolerances in medical instrumentation.
ACCU-CURVE™ Key Benefits:
Tight tolerances of ± 0.2 °C between 0 °C and 70 °C
Fast thermal time constant of 10 s
Resistance values at 25 °C from 2.252 kW to 10 kW
4 mm diameters with 32 AWG tinned-copper leads
Dissipation constant of 1 mW/°C
Epoxy coated
Where Can I Find the ACCU-CURVE™ series?
Order devices directly from us or through distributors such as Digi-Key and Mouser. As always, feel free to contact us with any questions or request a free sample!
Follow Us